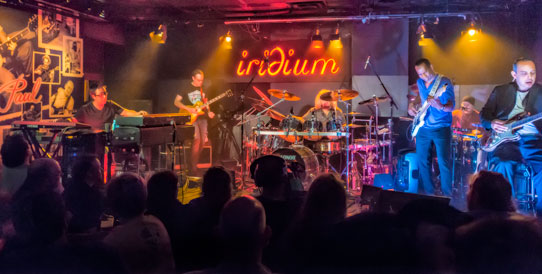 RCFP grew out of Bergman and DeJesus' 2007 instrumental album Grooove Vol. 1, and subsequent live dates at L.A.'s storied jazz spot The Baked Potato. They encouraged other musicians to jam with them, including Merritt and Neto, who joined the line-up early on. Bonamassa made his RCFP debut in early 2012 during one of his rare breaks from the road when Bergman—who has toured with the guitarist—invited him sit in on a pair of gigs.
"It is still one of my most fun musical experiences to date, world-class players all around," says Bonamassa. "Playing with those guys was a liberating experience for me. It was great coming up with stuff on the spot, and reacting to the others. I loved the challenge. They were really happening gigs. I hadn't had that much fun in a long time."
That improvisational nature comes through on We Want Groove, which was recorded live over the course of ten straight days at Tal Bergman Studios in Los Angeles, California. The environment was egalitarian and ego-neutral, with each player sharing equally in creating the music. "The concept of this record had everything do with interplay," says Bergman, "where everybody feeds off each other, reacts, and captures the moment."
In title and spirit, the album tips its hat to Miles Davis' classic 1982 live instrumental LP We Want Miles, which Merritt says "was kind of a template for our project." Its influence is one of many echoing through RCFP's re-imagination of jazz-funk—the album opener, "Octopus-e," boasts a sinewy funk groove that suggests a meeting between Jeff Beck and the Average White Band. The gorgeously atmospheric "The Best Ten Minutes Of Your Life" has an early '70s Temptations-style groove that just "lays there for late night." The album closes with the lush and soulful melodies of "New York Song." "All flavors went into making this album," says Bergman, citing other influences including Herbie Hancock, James Brown, Weather Report, Earth, Wind & Fire, Led Zeppelin, Sly Stone, and, of course, Miles Davis.
Bonamassa says, "Tal did a great job making sure the album didn't become over indulgent. The challenge was to keep it fresh without our influences overwhelming the music—to keep the band vibe without it becoming too many ideas from too many people. It was important to commit to the moment and keep it fresh, and fun. There is a fine line."
Ultimately, the defining influence on We Want Groove is the interplay, and the energy in the studio. Merritt says, "the idea was to set up in the room like we were playing live, and write the material together as we went along. Everyone had song ideas. Some were more developed than others. Whoever started something, whether it was a riff or a groove or some chord changes, we'd pass it around, make suggestions, and we'd be recording the whole time. We would listen, go back in and refine the ideas even more, then the next thing you know, we would have a take." Says DeJesus, "We'd play a groove for a few hours—a little faster, a little slower, until we all felt, in the moment, 'That's right.'"